WE TRIED IT!
Golfers need a lot of accessories from clubs and towels to cooler bags and much more. However, the accessory that could let you down the most on the golf course is an unreliable golf cart battery. Australia's fastest-growing battery company, R&J Batteries, carry a large range of reliable golf cart batteries from world-class brands such as U.S Battery, Delkor® and RELiON that all feature different technologies. The battery supplier's extensive product portfolio also includes top quality accessories designed to help make battery maintenance easy such as the Flowrite Pro-Fill

Single-Point Battery Watering System, Lester Electrical Summit Series® II battery charger and Redmax Battery Terminal Brush.
Compared to petrol-powered golf carts, battery-powered models have unique power requirements. Electric golf carts are subjected to deep discharge and fast recharge on a regular basis and need to maintain peak capacity for longer periods between charges. U.S Battery lead acid batteries engineered with the Xtreme Capacity 2

(XC2) formulation and Diamond Plate Technology® address these power requirements. The combination of XC2 formulation and Diamond Plate Technology creates efficient battery plates that deliver greater watt-hours per kilogram.
Clarios, manufacturer of Delkor batteries, is an award-winning company which continuously strives to meet the growing demand for superior battery performance and durability by investing in world leading technology. The Delkor range of deep cycle batteries provides reliable power to golf carts ensuring golfing enthusiasts can play the game uninterrupted every time. Developed with thicker plates, Delkor GC2 and GC8 lead acid batteries offer a steady amount of current over an extended period and can resist the stress from repeated cycling and vibration. 
For golfers requiring an alternative to conventional lead acid batteries, R&J Batteries' RELiON range of Lithium Iron Phosphate Batteries delivers efficient power on the golf course. Some of the many benefits of using lithium batteries for golf carts are its fast-charging capabilities, longevity, safety and reliability. The battery chemistry in RELiON batteries, Lithium Iron Phosphate, is less reactive if abused, has a higher temperature tolerance and can be operated up to 65°C. RELiON golf cart batteries are also lightweight, making travel around the golf course easy.
A properly watered battery lasts longer and performs better. Overfilling a battery results in loss of acid, while charging with low electrolyte levels will result in permanent damage to the lead plates. Both will result in loss of capacity and life expectancy. The Flowrite Pro-Fill Single-Point Battery Watering System makes battery maintenance faster, safer and more reliable due to single-point watering. Pro-Fill consists of automatic shut-off valves, interconnected with tubing which replace existing vent caps. The tubing is attached to a quick coupler that is connected to a water supply. Once connected, water flows until each battery cell independently reaches the correct electrolyte level.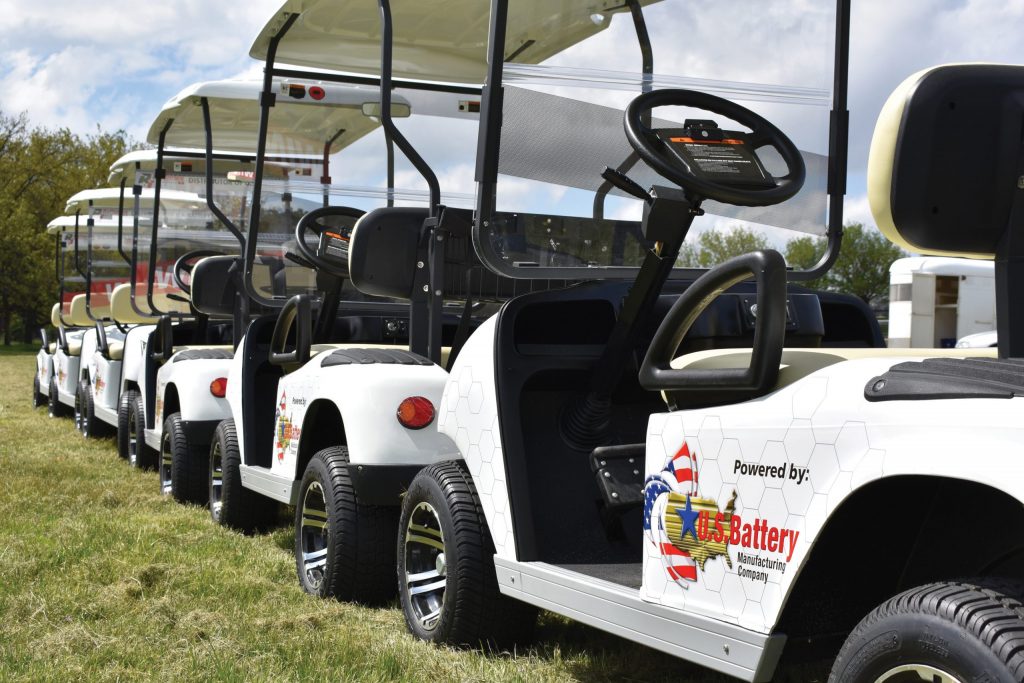 Other noteworthy golf cart battery accessories available at R&J Batteries include the Lester Electrical Summit Series II battery charger and Redmax Battery Terminal Brush. Designed in the USA, Lester battery chargers provide industry-leading charging performance and intelligence to ensure a precisely charged battery every time. The Redmax Battery Terminal brush, manufactured using stainless steel wire, is ideal for cleaning the inside surface of a battery terminal to resist corrosion. 
R&J Batteries has 27 company-owned branches and a vast network of more than 8,000 distributors across Australia and New Zealand making golf cart batteries and accessories accessible to all. Visit
www.rjbatt.com.au for more information about U.S Battery, Delkor, RELiON, Flowrite and Redmax brands or call 1300 769 282 to get in touch with the battery experts at R&J Batteries. 
The post Golfing Made Easy with Batteries and Accessories from R&J Batteries first appeared on Inside Golf. Australia's Most-Read Golf Magazine as named by Australian Golfers - FREE.