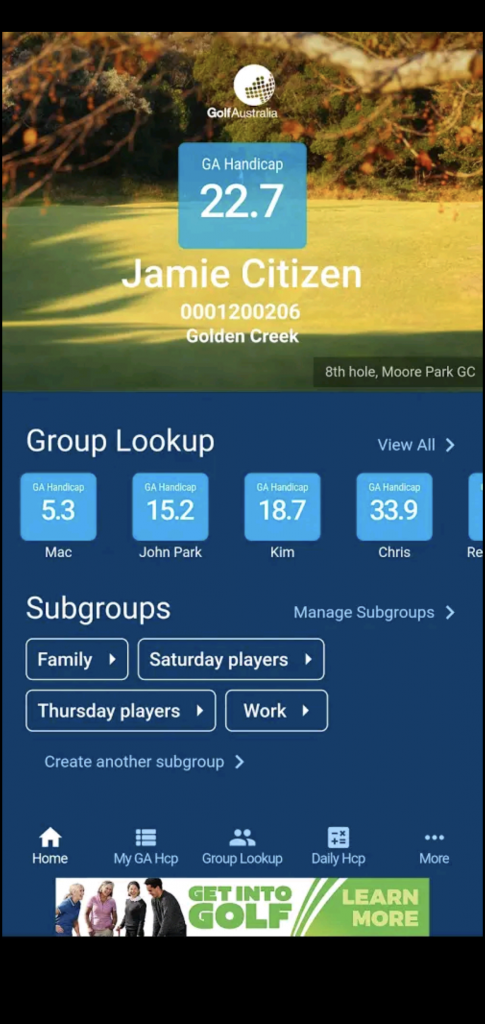 The new Golf Australia Handicap App is now available for free in the Apple App Store and the Google Play Store.
The app is a convenient and easy-to-use handicap monitoring tool with a wide range of features including tap-of-a-button group look-up (see below for full feature details). It was released during the Easter period, with download details promoted to club members over the following fortnight in a staged rollout that ensured a smooth experience for the industry.
Golf Australia chief executive James Sutherland said: "We've had hundreds of club administrators and members testing the App since the start of the year, so we knew it would be popular in all parts of the country. Those testing phases were critical for us in developing a product that aligns with the expectations of golfers and administrators, and we're really pleased with the initial take-up and reaction.
"But more broadly, the handicapping features are just the tip of the iceberg on where we need to take this to help to support clubs and facilities. Through our digital platforms, we have a terrific opportunity to attract new participants at all levels, especially younger people, and we're continuing to explore the addition of various non-handicap features and services to assist us with that.
"For golf to continue to thrive well into the future, we can't just be focused on taking actions that benefit those of us who love our sport now. We have a responsibility as custodians of the game to invest heavily into inspiring the next generation."
Major features of the new App
Group/subgroup look-up – This feature allows you to store up to 100 GOLF Link numbers in your profile and view the GA Handicaps of everyone in your list. You'll only need to enter players once to incorporate them into your subgroups. Create and name your own subgroups, such as 'Saturday players', 'Family', 'Work golfers', and so on.
Notifications – Receive notifications anytime someone in your list has a new score processed to their GOLF Link record. Keep fully up to date with everyone's scores as they come in.
Daily Handicap calculator – Choose the tees/course and this feature will display Daily Handicaps for you and everyone in your lists.
Handicap record display – For you and any players in your list.
Share scores and handicaps – The share feature enables you to message copies of scores/handicaps to your friends via text message, WhatsApp, Facebook, email, and more.
Download details and more information

To download the App, simply type 'GA Handicap' into the search function in your app store. For more information on the App, please visit www.golf.org.au/gahandicapapp.