WE TRIED IT!
In the April Issue, I wrote a "Business Spotlight" feature on Australian Golf Equipment (AGE) and their full range
of golf products (See it on our website: https://bit.ly/3cEnerw). Among their many products/brands are HillBilly Australia, the Australian distributor of the new 2021 HillBilly electric golf buggy (see the listing in this feature), and Stinger Golf Products, a designer, manufacturer and distributor of the high-quality Stinger range of golf bags and golf buggies. 
Following the feature, I was so intrigued with their range that I had to check it out for myself. 
So, last month, (in-between Melbourne's lockdowns and crazy winter storms) I took a Stinger SG-2 Push Buggy, as well as a Stinger Premium Golf Bag out to the course, and put them to the test. 
I should note that, when the courier delivered the packages to me, I was immediately caught off guard when I saw the small-ish delivery box with the SG-2 Buggy label on it. "Surely there can't be a buggy in there!" I thought. But…oh…how wrong I was. The SG-2 folds down into an amazingly-small package, and is so compact that it could easily fit into any car boot. And I mean ANY boot.
But don't let the folded size fool you. (Because, as Paul Kelly once sang: From little things, big things grow.)  
Indeed, once fully opened (Opening it up is a snap – just a couple of quick steps) you have a full-size, sleek, lightweight (yet strong) golf buggy with all the bells and whistles you could possibly want. 
From the adjustable bag straps (which can be set to fit any bag, large or small), to drink holder, tee and pencil holders, sand bucket hook, score card holder, top handle storage compartment and umbrella holder, the SG-2 has everything you need when out on the course. The soft-feel, height-adjustable handle is a pleasure to use, as is the foot-operated park brake, which does a solid job of holding the buggy in place.
It can also handle just about any terrain you encounter on the course. The lightweight aluminium frame and high-grade ball bearing wheels provide an effortless, smooth ride. And the multiple handle positions allow you to set the handle at precisely the right height to make pushing the buggy a breeze, which saves you heaps of energy as you make your way around even the hilliest of courses.  The wide-frame design, too, keeps the buggy stable on even the steepest of side-hill lies. Very impressive.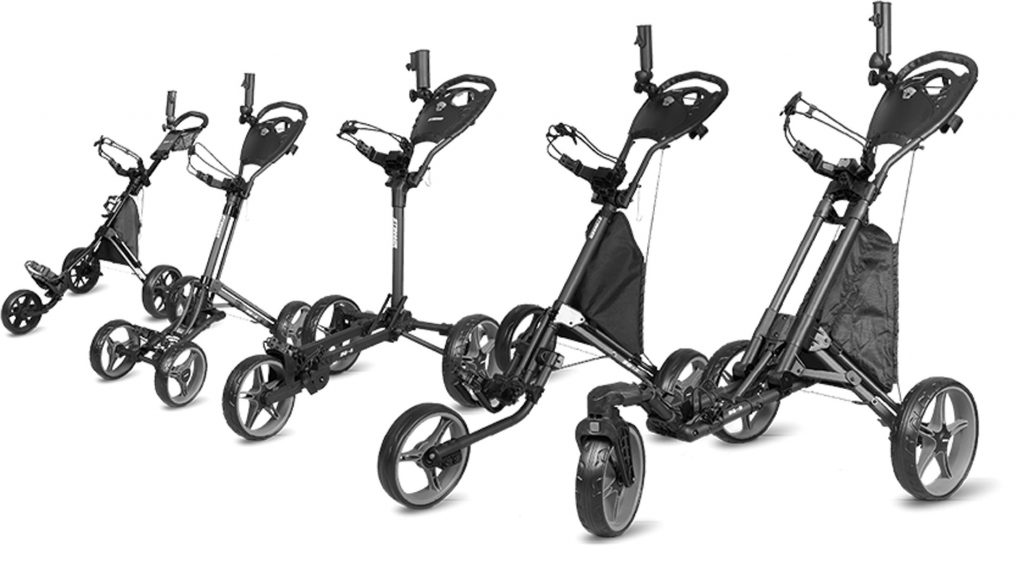 For the tech-heads out there, here are the specs: Folded dimensions: 71 cm x 41 cm x 42 cm (I told you it was compact!), total weight: 6.95 Kg (Yep, it's light!).
The SG-2 is just one of the five models of the unique Stinger Push Buggies (numbered 1-5, and each offer various features and benefits, check them out on the Stinger website). 
And though this month's feature is about buggies, I would be remiss not to mention the Stinger Premium Golf Bag that I trialled (especially since Stinger Golf is currently offering 30% off any Stinger golf bag when you buy a Stinger buggy, so it's very timely.) The Stinger Premium Golf Bag  is a stylish, functional, light and snazzy bag that not only looks good on a Stinger buggy, but also has all the features you look for in a golf bag, including 12 pockets (two are dry pockets for valuables), 14-way divider, adjustable shoulder strap, bag lock technology at the base, full length rain cover and rain hood, large front cooler pocket, larger external putter tube, pencil holder, rear carry handle, tee holders, top carry handle, towel hook and umbrella storage sleeve. (Whew…that's a lot of features!)
Like the Stinger buggies, there are a variety of other Stinger golf bags on their website, in various colours and features. 
One of the added benefits of Stinger Golf is that the parent company, AGE, offers a complete end-to-end service — Design, Manufacture, Distribution, Retail, Repair and Post-Sales Support. So when you buy a Stinger product, you are getting a "one-stop golf buggy shop" for all your golf buggy needs. Pretty cool. 
Overall, I was thoroughly impressed with the Stinger products. And if you're in the market for a buggy (and bag) that is stylish, sleek, strong and impossibly small and light, look no further than Stinger!
Buggies RRP: $199-$349
(Depending on model)
Bags RRP:
 $279-$399 (Depending on model)
03 5924 6056
The post Stinger Golf Push Buggy and Bag first appeared on Inside Golf. Australia's Most-Read Golf Magazine as named by Australian Golfers - FREE.