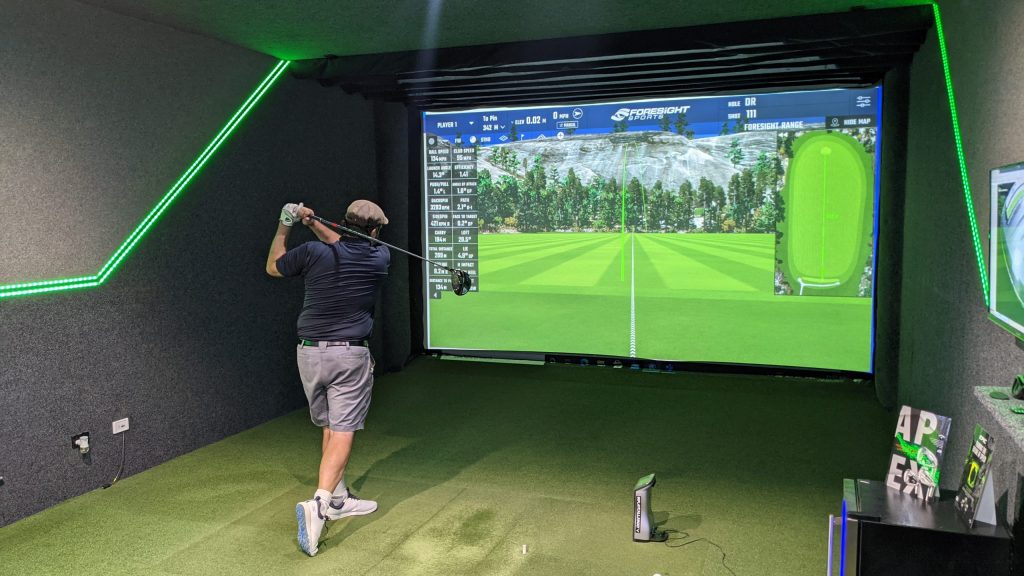 For over a decade, I've been espousing the benefits of getting properly fitted for a set of clubs. Buying a stock-standard set of clubs "off the rack" is like buying a random pair of size-9 shoes for a size-10 foot – you'll be lucky if they fit, and even more lucky if they are actually comfortable.
I've experienced clubfitting technology in various settings over the years –at driving ranges, retail stores, private clubs, The PGA Show and manufacturers' fitting studios – and though they all have slightly different approaches, one thing is consistent: I ALWAYS learn something about my swing, and about my current "needs" regarding my equipment.
Such was the case last month when I popped in to the Callaway Golf Performance Studio to test-drive Callaway's new Epic and Apex lines of clubs, and experience the latest in clubfitting technology.
It'd been a few years since I'd last been to the Callaway studio, and I was pleasantly surprised to see a variety of changes/upgrades. Though it has always been decked-out with the newest high-tech gadgets and launch monitors, etc, this latest version/setup is next-level.
The sophisticated launch monitor at the studio (with a huge bank of computer screens) shows every possible stat you could think of: launch angle, backspin rate, clubhead speed, swing path, efficiency, (truly too many to list), and then displays it all on the big screen as you hit each shot. The immersive simulator also shows you the shot's trajectory, carry, roll, etc — just like you see on the PGA Tour broadcasts.
And with the stats in the capable hands of my highly-experienced fitter, Ben Allen, we were able tweak, the clubs I tested in a number of ways (longer/shorter/lighter shafts, higher kickpoints, graphite vs steel, different loft/lie angles, etc.) This all resulted in some eye-opening results.
Now, I'll admit that there've been times recently when I've felt like my current clubs have been working against me (versus with me). It's almost like I'm battling the clubs as well as the course.
Well, after over hour (and 100 full swings!) at the Callaway Performance Studio, I now know why: my clubs (though properly fit for me about six years ago), aren't the best fit for my current swing. Slight variations in my swing (due to changes in fitness, reflexes, age, etc) mean that I could really benefit from the many advancements in current club technology (i.e. giving me more distance, forgiveness, etc.)
A perfect example of this is in the new Callaway Apex 21 line of irons (see our website for details/specs). These forged irons promote high ball speeds, increased spin robustness across the face and increased forgiveness. (They also look, sound and feel incredible, by the way!). After a few dozen swings with these—and a few tweaks in shafts, etc., I was seeing MUCH tighter dispersion/grouping (even on my mis-hits) and a gain of around 10-15m per club in distance (note: the lofts of these irons match the lofts of my current clubs, so it is a true comparison).
So too was the experience with the Callaway Epic Speed and Epic Max driver/fairway/hybrids. Huge advancements by Callaway's engineers in their Jailbreak technology has resulted in more distance (These were carrying further than the total carry + roll of my current driver!), and far more forgiveness off the tee (my "power fade" was staying in the fairway, for a change). And like the Apex irons, these Epic clubs all sounded and felt amazing. Solid, soft-feeling and extremely powerful, they all boosted my swing confidence significantly.
Bottom line: The new Callaway clubs are the real deal. If you are needing increases in distance, feel and forgiveness, then check them out immediately.
Also: if you've never been properly clubfit, then it's high time that you pop over to Callaway and give it a go—as you may discover that your current set is potentially working against you. (And if you HAVE been clubfit in the past, but it's been a while, then you owe it to yourself to try it again and see how much better your game could be).
More: www.callawaygolf.com.au
The post We Tried It – New Callaway Apex/Epic clubs and Clubfitting Studio first appeared on Inside Golf. Australia's Most-Read Golf Magazine as named by Australian Golfers - FREE.